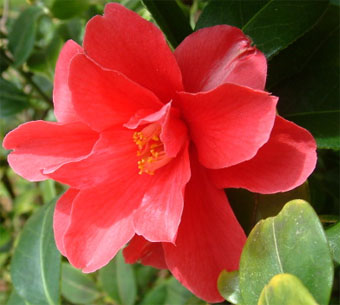 Yes, You Can Have an Easy Care Garden
Most of us want to enjoy a colorful garden, but don't have the time for complicated maintenance. By starting with a design that reduces maintenance, you can create a garden to meet these seemingly contradictory needs.


To begin, identify the High Impact and Low Impact areas of your garden so you can concentrate on the most important parts. In high impact areas that you pass by or see through windows every day, color and texture are very important. Low impact zones are the background areas of your garden between the high impact zones and the property line; they are less important visually.

Where Color and Texture Matter Most
In High Impact areas, add or substitute easy care flowering plants in beds and borders. Some favorites are described below.



Neat and Tidy Edgers: Along paths and front edges of planting beds, plant evergreen varieties that grow so densely they smother weeds, because when the edges are tidy, the rest of the bed looks well-groomed. Choices include the Golden Oregano, Mondo grass, and Ajuga 'Caitlin's Giant' which has flat rosettes of burgundy leaves and 8" spikes of blue flowers in spring. There are many more.
Glamorous Groundcovers: Flowering groundcover plants can substitute for high maintenance perennials in the flower border. Most of them need clipping and grooming just once a year. Choose ones with good leaf shape and a bonus of seasonal color, for example our native coral bells, Heuchera maxima, has rounded leaves and delicate spikes of white or pink flowers in spring. Other groundcovers with handsome, year-round foliage and seasonal bloom include Liriope or blue lily turf and perennial geraniums like 'Biokovo'. Plant them in large patches—at least 9 to 13 plants in a group—for best display.
Shapely Shrubs: Evergreen, flowering shrubs that grow into fine shapes without much pruning are another element in the easy-care garden. White flowered Choysia ( Mexican Mock Orange) is one and Hebe is another easy care shrub with with spikes of white or violet flowers. Weeping Camellia sasanqua and upright Camellia japonica hybrids flower heavily when the garaden needs it most in winter and early spring.
Colorful Foliage: Leaves can be as colorful as flowers, and last longer, too. Consider plants with white edged leaves, such as shrubby dogwoods, pittosporum and abelia. There are the golden variegated versions of eleagnus and lamium, and deep burgundy colored barberries and coral bells.
Dramatic Textures: Plants with distinctive shapes, like grasses, ferns, clivias and New Zealand flax add permanent drama to the garden.
The Easy Care Formula for Background Beds
In low impact areas try this easy recipe: Shrubs plus ground covers plus seasonal bulbs.

Plant a group of three to five large shrubs, all the same kind, such as the beautiful deciduous viburnums, flowering quince or ceanothus. If the space is very large, try small trees like crape myrtle or the small Japanese maples.

Underneath cover the ground and smother weeds with two or three kinds of low maintenance groundcover like Southern sword fern, star jasmine, piggyback plant or coral bells, planted in big patches of one kind. For rough areas where deer prowl, a shrubby groundcover is more durable, something like Cotoneaster 'Low Fast' that stays low and spreads wide.

Flower color comes from seasonal bloom of the shrubs and ground covers as well as from bulbs that come back each year. These include April-flowering Spanish bluebells for shady spots, sun-loving freesias and summer's colorful watsonias and crocosmias.

Whatever you plant, select varieties that thrive in your garden's combination of conditions—sunny or shady, hilly or flat, windy or protected. It's always easier to go along with nature, not fight it.

To ensure success, prepare the soil before planting. Dig and amend with organic matter so roots grow strong and healthy. After planting cover soil with an inch of mulch.

Try your own combinations of plants, and you will be on your way to an easy-care, enjoyable garden.