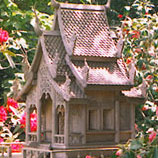 English Country Style in the South Bay: An expansive lawn bordered by rose beds contrasts with intimate gardens including an elliptical white garden, a secret spot for a spirit house and a flower-filled cottage garden to view at breakfast.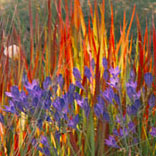 The Meadow Solution: A dying lawn and looming water restrictions motivated a front-yard change from suburban lawn to California meadow.



Flowers for a Quick Fix: To fill the view from the family room with color and texture, tired plantings were replaced under a magnolia tree.




Japanese Scroll Garden: An Asian-styled garden creates serene views and increases privacy in a once-ignored side yard.